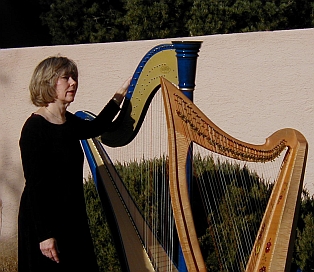 Music washes away from the soul the dust of every day life. Berthold Auerbach
Music is . . . the speech of angels; nothing among the utterances allowed to man is . . . so divine. It brings us near to the infinite. Thomas Carlyle
When words leave off, music begins. Heinrich Heine
A select list of previous appearances and professional engagements follows, along with testimonials from Donese's therapeutic work as a musical healer.
&nbsp
CONCERT APPEARANCES
Albuquerque Civic Chorus Concerts
Albuquerque Philharmonic Orchestra Concerts
deProfundis Men's Chorale
Corrales Cultural Arts Council Concert Series
Millennium 2000 Concert with Sandy Neel
Quintessence Choral Artists of the Southwest Concerts
Quodlibet Chorale Concerts
Sangre de Cristo Chorale
Sigma Alpha Iota American Composers Concert performing music by Jane Ellen
CIVIC and SOCIAL OCCASIONS
Elena Gallegos Open Space Series
Explora Museum Fund Raising Dinner
Gourmet Homes Tour sponsored by Albuquerque Metropolitan Board of Realtors
Maxwell Museum Volunteer Appreciation Events
National Petroglyph Monument Series
Naturalization Ceremony for U.S. Citizens
New Mexico Museum of Natural History Volunteer Appreciation Dinner
People's Caring Awards for People Living Through Cancer
Reception for New Mexico State Legislators
Reception for ACCION
Rio Grande Botanic Garden River of Lights Christmas Program
Rio Grande Community Concert Series to benefit the Rio Grande Food Project
CHURCH and SCHOOL EVENTS
208th General Assembly of The Presbyterian Church-Albuquerque Convention Center
An Evening of Special Events-Belen High School
Music performance for Felician-Franciscan Sisters of the Southwest
Thursdays At The Cathedral Series-Cathedral Church of St. John
University of New Mexico Homecoming Activities
TESTIMONIALS
Thank you for bringing peace to my mother when she needed it most. Your gift was one of the greatest of all. You are an angel, may your life be filled with joy and peace. Please continue your work, you have much to share. From the bottom of my heart, thank you.
Thank you for bringing the harp to where my mother was. Your grace and courage supported me in coaching her during her transition 24 hours later.
HOME || CONTACT || BIO || ACTIVITIES || PLAYLIST || TWO ROSES
Copyright © 2004-2020 Donese Mayfield. All rights reserved.